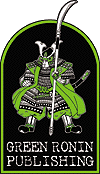 Neues von GReen Ronin
reen Ronin, Verleger von Freeport, Thieves' World, Mythic Vistas, Mutants & Masterminds, True20 System, Warhammer Fantasy Roleplay, Faery's Tale Deluxe und A Song of Ice and Fire Roleplaying äussert sich nun darüber ob der Verlag in die GSL Lizenz von Dungeons & Dragons 4 einsteigt oder aber bei der OGL Lizenz von D&D 3.5 bleibt. Dazu äussert sich Chris Pramas wie folgt:
We plan to do one product in support of 4E: the Green Ronin Character Record Folio. This will be an update of the d20 System Character Record Folio and we'll be publishing it under the Open Game License (OGL).

Other than that we'll be giving our full attention to our own game lines: Mutants & Masterminds, A Song of Ice and Fire Roleplaying, True20 Adventure Roleplaying, and Freeport: The City of Adventure.

We had hoped to include 4E support in our plans, but the terms of the GSL are too one-sided as they stand. We certainly do not blame Wizards of the Coast for wanting to defend their intellectual property and take more control over the type of support products D&D receives. We do not, however, feel that this license treats third party publishers as valued partners. Under its terms WotC could frivolously sue a signatory for supposed violations of the GSL, lose the actual court case, and still ruin the winning company because the license specifies that the signatory has to pay WotC's legal fees. Also, the GSL can be changed at any time and WotC is not legally required to so much as inform its licensees.

Let me be clear in stating that I don't think that the people in charge of WotC currently are just waiting to attack companies with frivolous lawsuits. Once you sign the GSL though, you open yourself up to that at any point in the future. Who knows when new people will take over the D&D brand and who can say what their vision will be? Who knows when the political winds at WotC will change again and things will get even more restrictive? We do not want to operate under such a cloud moving ahead so that's why we won't be signing the GSL.

This means the Green Ronin Character Record Folio is the only 4E compatible product you'll be seeing from us this year and likely for 2009 as well. Perhaps WotC will revise the GSL in the positive way, but we cannot build our business on maybes. We know this will disappoint those of our fans who have embraced 4E and we're sorry about that. We have to make the best business decision for Green Ronin's future and right now this is it.

Thank you for your continued support.

Chris Pramas
President
Green Ronin Publishing
Was meint Ihr?